This is the 2018 obituaries page
To view 2013 click here
To view 2014 click here
To view 2015 click here
To view 2016 click here
To view 2017 click here
"REQUIEM AETERNAM DONA EIS DOMINE"
OBITUARIES 2018
Sir Reginald Secondé KCMG, CVO (40)
British ambassador recalled from Chile amid great tension in the 1970s
November 11 2017,, The Times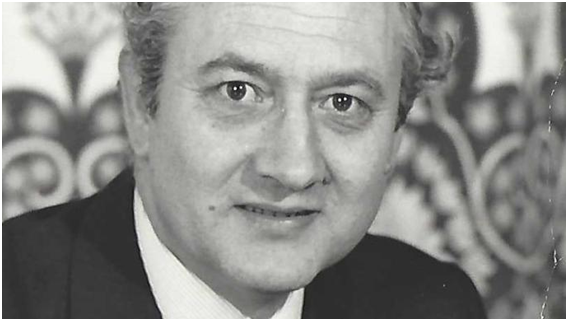 When he arrived in Santiago in 1973 as Britain's new ambassador for Chile, Reggie Secondé presented his credentials to Salvador Allende, who three years earlier had become the first democratically elected Marxist president. He had launched the "Chilean Experiment", the introduction of communism through parliamentary means. At their first meeting, Secondé thought that Allende seemed "tense", but "determined to push through his ideas".
Secondé saw much good in Allende's reforms. Chile, he wrote, "has at least caught her social problems by the tail".
Inflation, the expropriation of land and the takeover of factories led to a polarisation of Chilean political opinion, however, and on September 11, 1973, the military struck. Allende gave a farewell broadcast then died of assault-rifle wounds in the presidential palace — his death was ruled to be a suicide — and many of his supporters were arrested.
Three days after the coup, Secondé reported, "it is likely that casualties run into the thousands, certainly it has been far from a bloodless coup". A few days later he wrote that "stories of military excesses and mounting casualties have begun to circulate. The extent of the bloodshed has shocked people."
The British government was keen to establish good relations with the junta, and Secondé drafted a statement that made British feelings about human rights clear without alienating the new rulers, who promised to treat political opponents "in a humane manner". The foreign secretary, Alec Douglas-Home, cabled Secondé to congratulate him on carrying out "a difficult brief . . . the statement helped us to defend our relatively early recognition of the new government against domestic criticism." Perhaps part of Secondé's success lay in the advice he gave to his son, Charles: "One should always flatter."
Secondé was no Chilean lapdog, however, as an American diplomatic cable acquired by Wikileaks demonstrates: "Second [sic] told me that on [the PM's] instructions he had . . . an extremely frank talk with foreign minister Carvajal, the gist of which was that unless junta altered its human rights policies, it would not be possible for HMG to restore the traditionally friendly and co-operative relations which had existed between the two governments. Carvajal was apparently impressed with Seconde's outspokenness (the ambassador is indeed a very direct type)."
The junta's promise to act humanely was not remotely honoured, and in November 1975 Sheila Cassidy, a British doctor, was arrested. She had been working at a hospital when a priest had asked her to go to a safe house run by Americans to treat a revolutionary shot in the leg while on the run.
A week later she was seized and taken to the notorious Villa Grimaldi on the outskirts of Santiago. She was subjected to the parrilla — "grill", or "barbecue" — a rack to which the subject is tied and given electric shocks. After several days of torture she was put in solitary confinement for three weeks, then taken to a women's detention camp. Most of her fellow inmates were students; all had been tortured.
Cassidy's arrest led to a rupture in relations with the junta, which was now dominated by General Pinochet, and Secondé was ordered to return to Britain as soon as he had secured Cassidy's release — despite opposition from some Tory MPs, who demanded medical evidence that she had been tortured. One, Nicholas Fairbairn, was outraged that Secondé was being recalled solely on Cassidy's testimony. Cassidy was freed on New Year's Eve, 1975. Secondé never returned to Santiago.
His next posting was in 1977, as ambassador to Romania, where Nicolae Ceausescu had been in power for more than a decade, ruling through hardline Marxism and the secret police.
Secondé was struck by the grimness of Bucharest on his arrival: "There is something depressing about it which is hard to define," he wrote. "It is not entirely the monumental heaviness of the new buildings or the glimpses one gets of the tattered finery of the past or the wide acres of identical blocks of workers' flats — or even the pathetic displays of consumer goods in the shops (all state-owned). I think it is rather in the look of the people."
Romania wanted to acquire British aircraft, so the UK government was not keen on addressing human rights abuses — but Secondé realised that their power was limited: "We must chip away, but I doubt whether we shall have any spectacular results," he wrote.
One evening Secondé was ordered to dine with Rudolf Hess
His final appointment, in 1979, was as ambassador to Venezuela, which was booming on account of the oil price rise. He received a stream of high-level visits, and was knighted, but in 1982 his final months were clouded by the Falklands conflict, during which the Venezuelans were enthusiastic supporters of the Argentinian cause.
Reginald Louis Secondé was born in 1922 on the Isle of Wight, but when he was very young went to India, initially to Hyderabad, as his father, Emile, was an Indian army officer; his mother was Doreen (née Sutherland). He was educated at Beaumont and King's College, Cambridge, where he studied economics under JM Keynes. Secondé once asked him, "What's going to happen in the long run?" and received the reply, "In the long run you'll be dead!"
In 1941 he was commissioned in the Coldstream Guards. His first duty was to help guard Rudolf Hess, who had landed in Scotland seeking to secure a meeting with the government. One evening Secondé was ordered to dine with Hess, whose English was good, but Secondé found that his understanding of Britain was somewhat out of date — he seemed to believe that power lay with the king and his nobles.
In 1942 Secondé's battalion sailed to fight at Longstop Hill, and elsewhere in the Tunisian campaign. This yielded more than a quarter of a million prisoners, and Secondé and his platoon were ordered to guard hundreds being transported to Algeria in the hold of a Liberty ship. On the way it was torpedoed, limping back to port with a cargo of dead and wounded.
For the rest of the war the Coldstream Guards fought their way up through Italy. By 1945 Secondé had been wounded, promoted, mentioned in dispatches and had learnt some Italian. This allowed him to join the Allied Screening Commission, whose task was to reward those Italians who had helped escaped British PoWs.
His experiences in Italy stimulated him to try for the Foreign Service, and in 1949 he was set to work in the Western Organisations Department, which dealt with the Brussels Treaty Organisation, the forerunner of Nato. A posting to the UN followed in 1951.
That year he married Catherine Sneyd-Kynnersley and went on to have three children: Juliet raised six children before becoming a teacher of yoga, and now practises acupuncture; Louise raised four children, and now writes and lectures; Charles went into the fashion industry, including 18 years with Christian Dior. "Dad always told me that I should do the right thing," he recalled, "but he never told me what the right thing was."
His name, which had its distant origin in Champagne, sometimes brought him recognition. At a large meeting in the Foreign Office to discuss staff matters, a resolution was proposed. He stood up to second it, announcing, "I'm Reggie Secondé", to a ripple of amusement. He knew AA Milne's Winnie-the-Pooh by heart, and said he was always able to use something from it whenever he had to give a speech.
Secondé wrote an unpublished memoir, which concluded: "I have recorded some of the above, as possibly being of interest one post-millennium day. But in any case the process has helped me, as the Portuguese put it, 'matar saudades' — to kill nostalgia."
Sir Reginald Secondé, KCMG, CVO, diplomat, was born on July 28, 1922. He died after suffering from dementia on October 26, 2017, aged 95
JAMES EDWARD MELVILLE (53)
Jim Melville died in June 2016 at his home in Hereford.  He came to Beaumont from St Aidan's Grahamstown, South Africa in 1950 and entered Lower Syntax. Jim was not an academic: his love was cricket gaining his cap in '52 and colours at the end of the 53 season in a side that suffered an unexpected and resounding defeat at Lords.
On leaving, Jim played for Blackheath and for the MCC. He came to prominence in 1961 when playing for the Club Cricket Conference against the outstanding Australian touring side. In the words of the press he "ambushed" them taking 6 wickets for 46 including the Captain Richie Benaud and their other leading batsmen Lawry, Jarman and O'Neil.  The Club won by 8 wickets, the Australians only defeat in the season.
The following year Jim made his first class debut for Kent and again made an impressive start in the defeat of the county champions Yorkshire taking 3 for 28 in the first innings and then 4 for 78 in the second.  This included Geoffrey Boycott out for a duck on his debut. He played a couple more seasons for Kent before returning to Club sides.  Jim will be remembered as "a lively seamer with a well disguised slower ball".
Jim was one of those extraordinary Beaumont cricketers that include the Meldons, Charles de Trafford, Bird, Bulfield and Naughten.
Jonathan Hugh Rogers (65)
Of Freshwater Pembrokeshire. Died 1st December 2017 aged 70 from multiple system atrophy, an illness borne with great stoicism
Robert Bruce.
Jonathan was the year below me at Beaumont so I didn't know him all that well, but he was a superb scrum half with a great long pass from the base of the scrum and tipped to be First XV scrum half a year ahead of his time for the 63/64 season, my last year. Luckily for me, he was sick or injured at the beginning of the September term and I was promoted from the Second XV to fill his place. He duly returned to his rightful place as scrum half after a couple of games and saw the season out in great style. But thanks to getting in to cover his absence, I retained a place as wing forward (flanker in modern parlance) for the rest of the season - better not tell my boys I got in by default!
But Jonathan was great, tough, gritty and providing superb service to his fly half (either Bell or Tony Arnoux, can't remember which).
Chris Newling Ward
I was thinking about that pass today; he was really very fast and a very special team-mate and the following year became Captain of the 1st XV, earning his colours.
I think get also received his colours for Boxing as well.
In that same team we had Kevin Riordan who also got Rugby and Boxing Colours then crowned it with Cricket to get the triple. Not many did that. He had an Irish trial I think.
We had a very good season under Jonathon; I don't know if you were involved with Terry Fallon as coach, who had us back at school a week early in September for training.
Probably as tough as your Marine training! Looking at the list below we also had John Bidwell, Paul Cusack as hooker, and John Devaux, James Halliday and Pat Garstin in the same team
Robert Bruce in response to Christopher:
Your memory is better than mine! - Some might say that's not difficult. But we too returned for early for pre-season training under Fallon - a TA Para officer if I remember rightly. He introduced us to circuit training which has since remained with me all my life, both in practice and in memory! Fallon went on to be Head of a catholic girls school in Torquay - I wonder how his tough image went down there, but he was there quite a long time.
As the photo in my study reminds me, there were several of your year in 'our' XV, including Bill Orchard, as well as Devaux, Garstin and Riordan who you mention - Jenkins too was your year I think; can't remember his Christian name.
We weren't a particularly successful team and only Gerry Green (Captain) and John Keogh got colours.
John Bidwell: "
How very, very sad. We were at Beaumont together from 1960 to 1965 and I played a lot of rugby and cricket with him and we were good friends. His delightful mother used to take us to the Cumberland Hotel in Marble Arch occasionally on Sunday Exeats for their superb carvery which supplemented our ghastly Beaumont diet for a week or two. The memories remain strong.
Mickey Parish:
Sad news. What can I say, except he was one of the best guys at Beaumont. Apart from all his achievements he was a total hero for me in July 1965 for standing up to the "establishment ". We should all sing together: "The Fox is not bad, it's all very sad ... and remember him with happiness."​
Simon Potter:
I only saw Smoothie a few times after we all left Beaumont, the last being, I'm sure, at West Hylands after some "do" for our year group (but can't remember when; he was on a walking-frame then, so some years back) - but, mobility excepted, he was just the same as in '65; and a really delightful chap.